Welcome to Paul Kollmann Monuments and Sales
This is a second generation family owned and operated full service monument company. With 70 plus years of successful and honest dealings with satisfied customers, many are second or third generation repeat customers.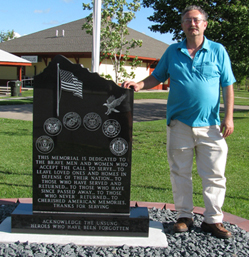 During this difficult time, many people find comfort in purchasing a monument to serve as a remembrance of a loved one. As an ethical retailer of monuments, we recommend that you make this decision with proper care and counsel.
If you have yet to purchase a monument or marker, I would welcome the opportunity to give you a price quote on a monument or marker at your convenience. If you are in need of lettering of a monument or marker at the cemetery, I can arrange to have it lettered on sight. When we meet, I can show you a wide variety of classic and contemporary colors and styles.
I offer full service monumental sales which include: Monumental sales, Cemetery Lettering, Delivery, Vases